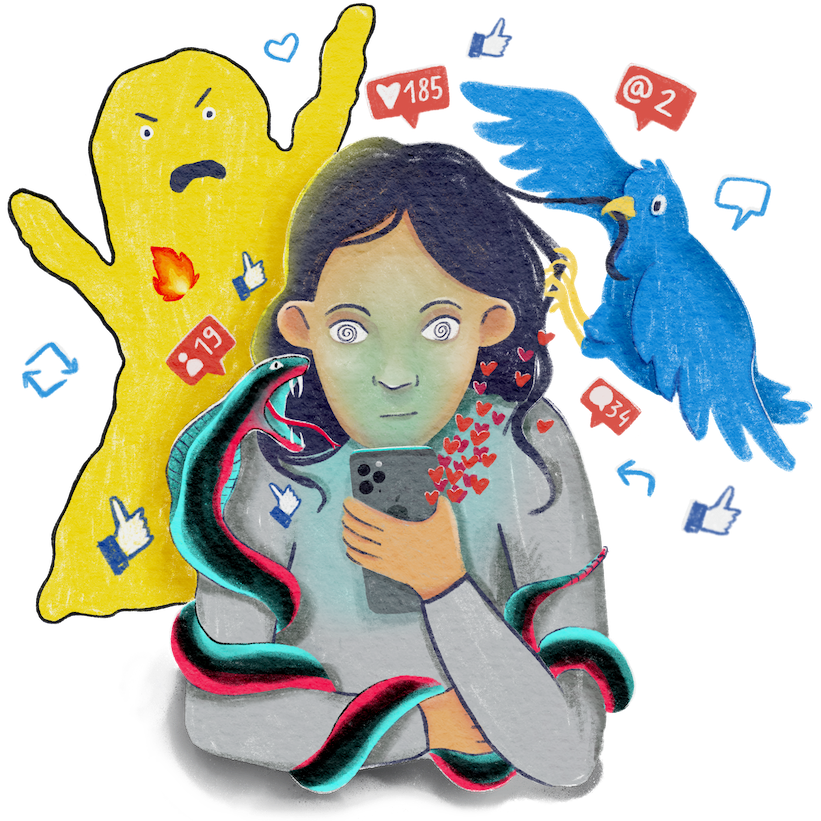 How to un-hook yourself from social media – in the long term
In 2020, during the lockdown, I was using social media (especially Instagram) way too much. Scrolling for 30 minutes (or more) wouldn't make me feel any better – and still I came back to it again and again and again.

Then I wondered: Why do I open Instagram all the time even though I don't want it? How do I open apps all the time without actively thinking about it? And can I, as an app developer, do something about that?

Social media apps are unfair
The objectives of social media apps and you, as a user, are quite contrary:
For you, Instagram is a tool to stay in touch with friends, message them, and see what they are up to. This sounds great.

Instagram, on the other hand, is a pure ad network, that makes you addicted to it.

These mechanisms are designed by the best psychologists, using state-of-the-art research results as "weapons" to make you open their apps as many times as possible.

Here are some examples:
Attention and instant gratification (Likes, Views)

Signal colors (Notifications, Badges)

FOMO (Stories only visible 24hrs)
Kill boredom (Endless scrolling + algorithm that knows exactly how to keep you engaged)
Avoid unpleasant feelings (Instant delivery of "interesting" content)
All of these mechanisms have one goal: to provide instant gratification (short-term dopamine) – and that means: making you addicted to their product.
The hook model
The hook model has been established by Nir Eyal, sketching out the strategy of social media companies to make users open their apps more.
It is essentially a vicious cycle, making you more addicted every time you use these apps.
Understanding the hook model helps to understand how to protect against these mechanisms.

The starting point of a each hook cycle is the trigger:

External Trigger, e.g. push notification, email, app icon

Internal Trigger, e.g. desire to escape an unpleasant situation or emotion or crave for instant dopamine (likes, notifications, views)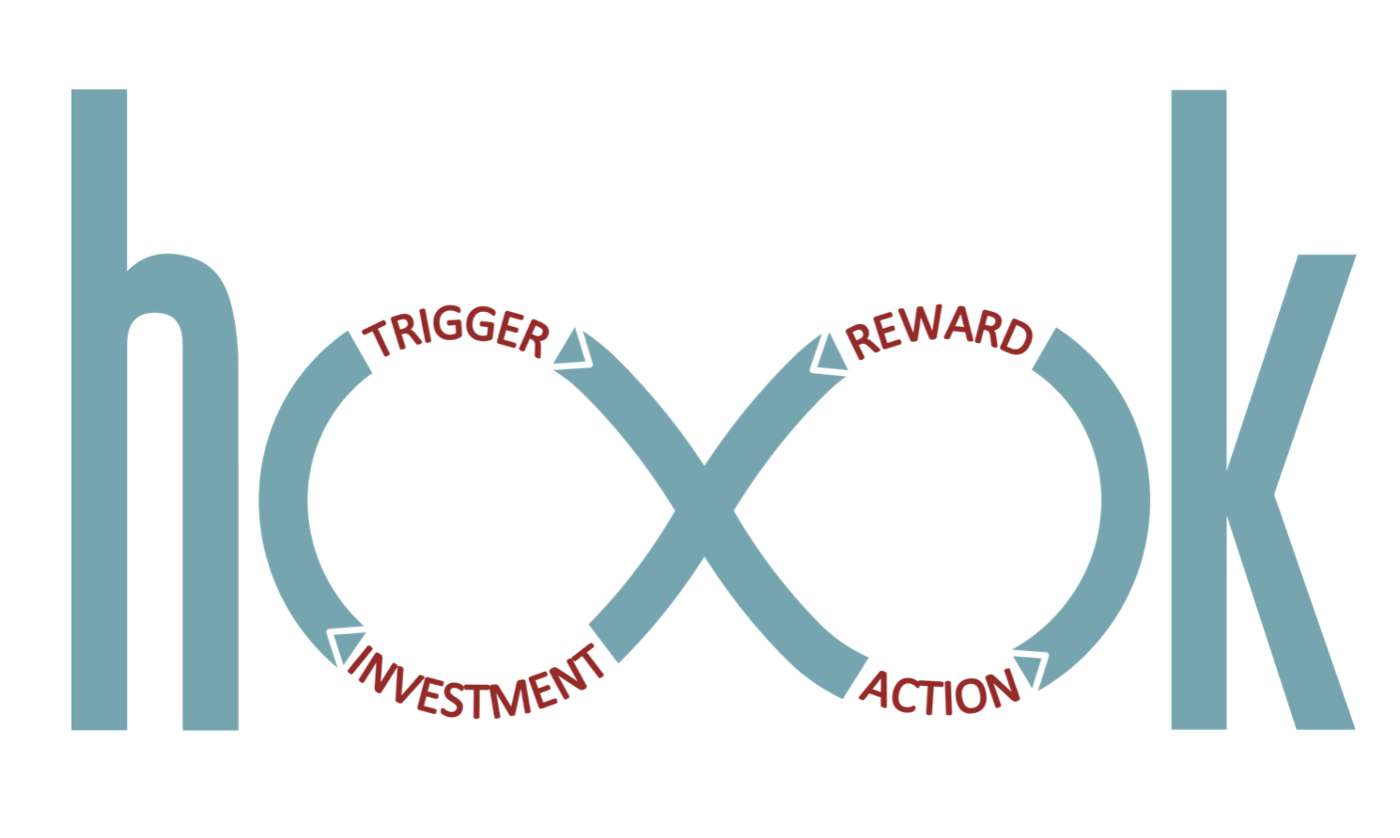 "The Hook Model: How to Manufacture Desire in 4 Steps": Nir Eyal
Action: opening the social media app, according to the trigger

Variable reward: interesting / distracting content, likes, view stats, attention

Investment: content creation, comments, liking content, interacting with content, consuming content
The essential take-away from this cycle is really that internal triggers become a part of our everyday life – and are triggered all the time again and again and again.
App-autopilot
A couple of years ago, someone suggested me to "take a deep breath" while opening apps – to reflect if we really want to open that app. That short moment of mindfulness is supposed to interlace with the action of the hook model – to realize what the trigger was and if this is really an intentional attempt to open that app.

However, that breathing strategy does not work when opening apps caused by internal triggers, "on autopilot". That's how the idea of my app one sec was born: forcing users to take a deep breath automatically – every time when configured apps are opened – to break those automatized triggers, and to give the opportunity to make a clear, intentional decision.

Noticing how many times we open apps every day is shocking. I challenge you to give it a try using my app (iOS, Android) – it's completely free to use with one app configured (most people set it up with Instagram or TikTok).

Taking away instant gratification
Becoming more aware of your usage, and giving you a tool to immediately discard any unintentional app-open-attempts is already great – but that's not all:

Your brain learned that opening social media means instant gratification.
Adding additional friction in front of social media apps takes away that instant dopamine.

Over the first couple of weeks with one sec, your brain will re-balance these effects and will learn that opening social media now means "I have to wait 10s which is very boring".
The instant gratification fades away, and your brain loses the urge to open such apps.

Now, while continuing to use one sec, you will notice that you have a much more intentional usage-pattern: it's only worth to wait these 10 seconds if you really have a proper intention (e.g., messaging a person).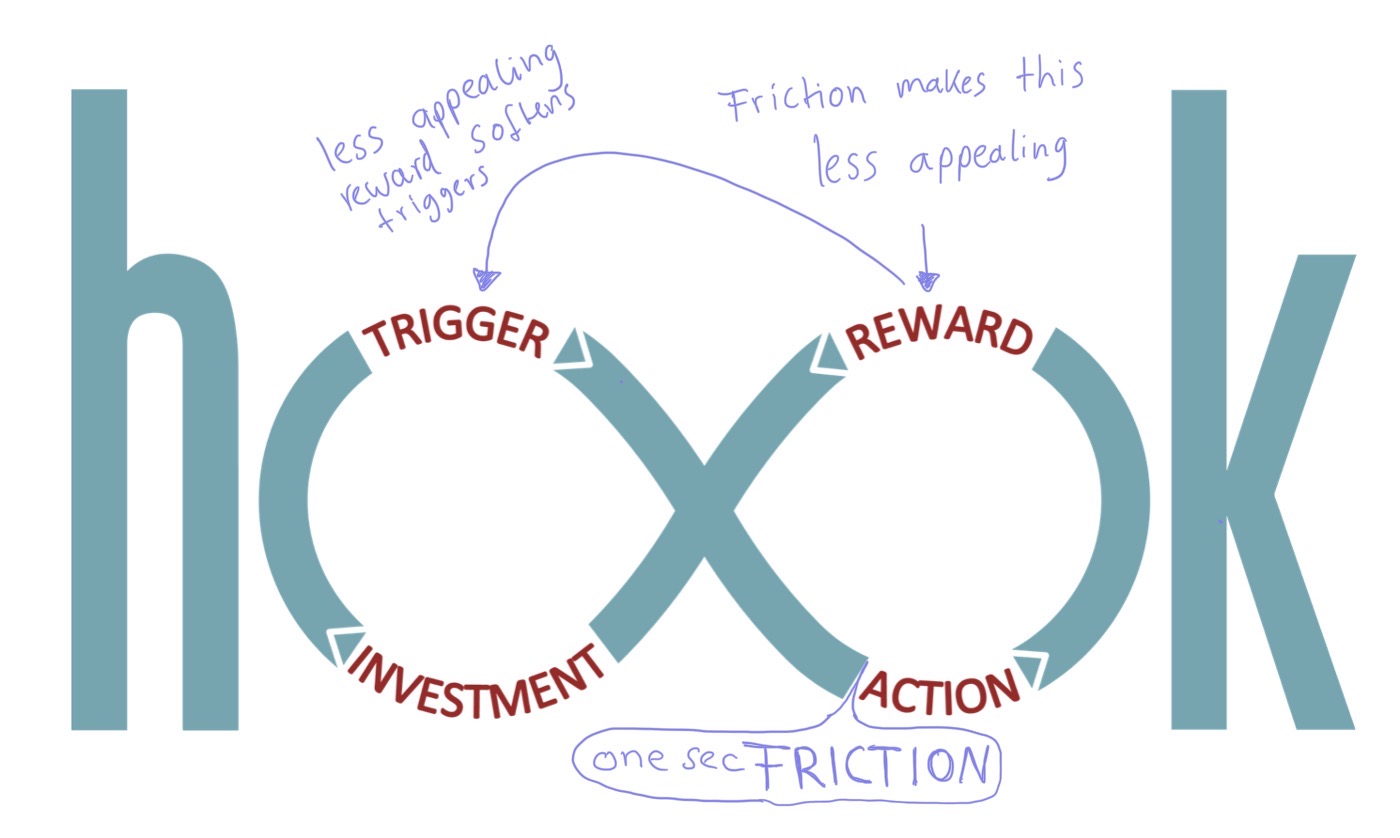 Modified Hook Model after one sec has been added to the cycle.
Keep using social media – without the downsides
Now, that you know how it works give it a try and experience it yourself. I'm excited to hear how it works for you.

My goal with one sec is clear: Giving users a tool to protect themselves against the ubiquitous tricks of social media platforms - without abandoning those apps completely.
Because we all know, there are also some great aspects about social media.

one sec is already being used by thousands of happy users (rated 4.9 stars on the AppStore). It's free to use with one app configured, so you can give it a try. And just so you know: All data is stored offline, on-device for your privacy. I make money selling in-app purchases, not your data!

Android? Join Mailing List 〉